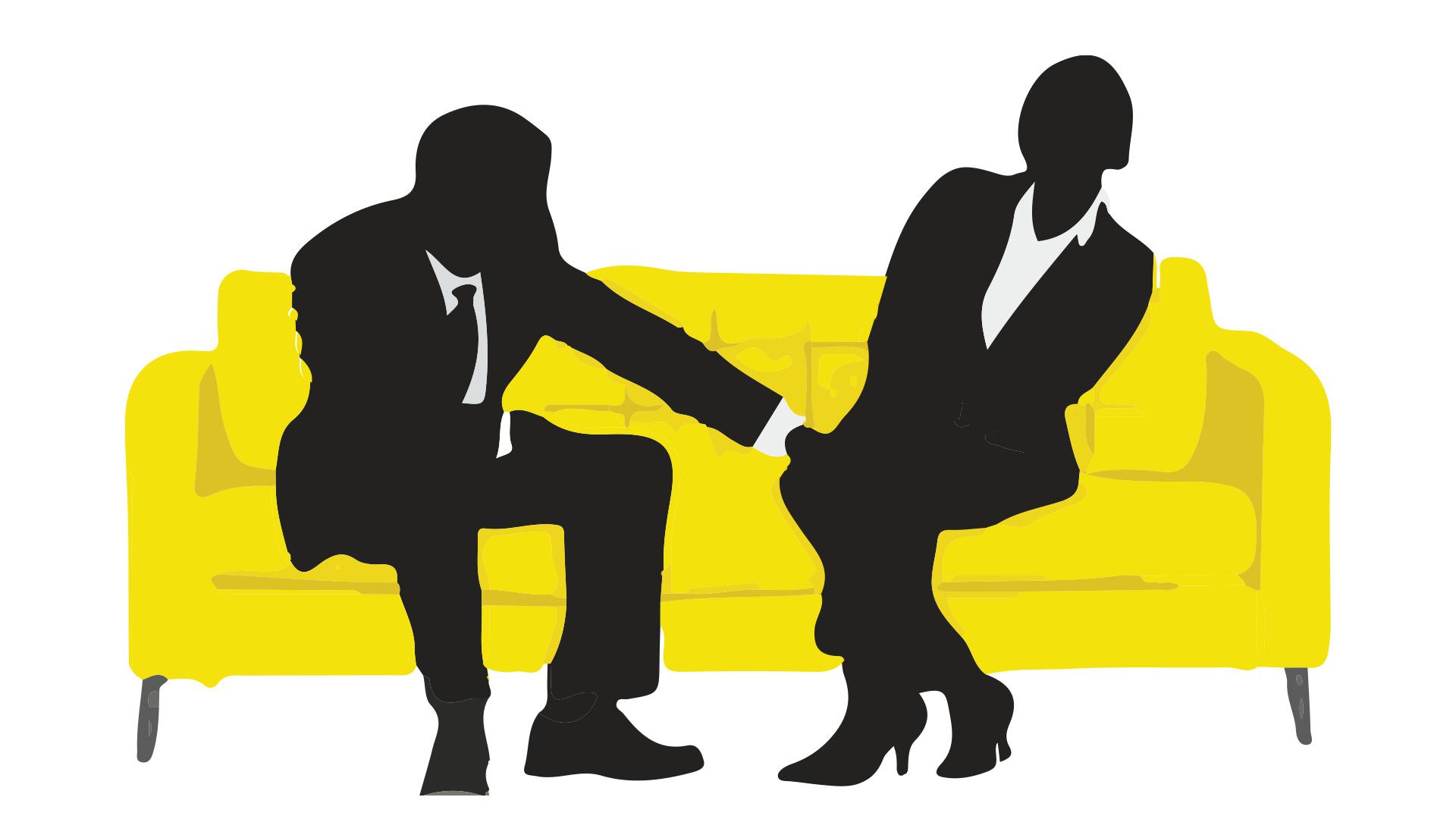 The National HRD Network (NHRDN), along with Market Research and Management Consulting firm, Stratefix Consulting, jointly conducted a survey to assess the awareness of the Prevention of Sexual Harassment(PoSH) act amongst professionals. The results throw up some interesting findings.
In 2013, the Sexual Harassment of Women at Workplace Act (Prevention, Prohibition and Redressal) Act was passed, defining sexual harassment, laying out procedures for complaints, and setting out remedies. Since then, many companies have put in place measures and practices to deal with such instances at the workplace.
With an aim to understand the current level of awareness, NHRDN and Stratefix Consulting jointly conducted a study on "Awareness of PoSH (Prevention of Sexual Harassment) Act at the Workplace" – an issue being discussed very frequently within the professional communities
What is the PoSH Act?

The POSH Act came into place for the protection of women from sexual harassment at the workplace and thereby ensure a safe working environment for women.
The POSH Act, as mandatary compliance, requires every company having more than ten employees to constitute an Internal Committee (IC) in the prescribed manner to receive and address the complaints of any sort of sexual harassment from women in a time-bound and extremely confidential manner. The person who can file a complaint has to be a woman. The PoSH Act in its current form is not gender-plural.
In post-COVID workplaces, hybrid cultures have become commonplace. The definition of Workplaces has expanded to include home and virtual platforms. Although this has many benefits, it also creates the need for women as covered under the Act and all employees to have better safety and security at work as well as to prevent sexual harassment.
Stratefix Consulting and the NHRDN conducted a survey across India among professionals on
1. The awareness of what constitutes sexual harassment at both physical and virtual workplaces
2. The awareness on the redressal mechanisms available to individuals for self and others
3. Their experience of how their organization deals with such situations
Demographics of Survey:
A total of 424 professionals participated in the study, comprising 35.4% of Men and 64.2% women, Do not want to disclose 0.2% and other gender as 0.2%.
The participants with different age group are as follows:
20-30 years -> 50.5%
30-40 years -> 34.9%
40-50 years -> 11.6%
50 Years + -> 3.1%
Over 91% of the participants in this survey are currently employed.
Key Survey Findings :
Here are the Key highlights of the survey:


Q1 : Types of Physical Sexual Harassment experienced at workplace

Data Findings:
1. Top 2 types of Sexual Harassments at work place mentioned were:
    A) 50% of respondents have experienced unwanted touch
    B) Verbal remarks of a sexual nature (including jokes) was been experience by almost 45% of respondents
2. Sexual assault or rape was experienced by 2% of respondents
3. 63% of respondents have not experienced any of this type of Sexual Harassment at workplace

Analysis:
While Workplaces appear safe in India with a 63% of the respondents mentioning that they have not experienced any sexual harassment. Yet there is a significant percentage of respondents who have mentioned that they have experienced unwanted touch or sexually colored verbal remarks. This indicates that there is likely that there is under-reporting or lack of awareness of what constitutes sexual harassment

Comments/ Recommendations:
A significantly large 37% of respondents have experienced Sexual Harassment at workplace. Clearly a more proactive awareness and advocacy initiatives are needed at the workplace. This calls for the entire gamut of a well communicated Leadership message on a zero tolerance policy, a well drafted policy that is relevant, frequent sessions & conversations, creating a safe work culture to encourage reporting of any sexual misconduct, a well-trained IC to handle the cases with sensitivity and confidentiality.
Awareness at onboarding of lateral hires, induction of new joiners, trainees, during promotion, transfers is necessary

Q2 : Recency of sensitization initiatives' on POSH at Workplace within your organization for self & colleagues

Data Findings:
1. A total of 56.4% of survey respondents did not know about POSH act at work across female and male respondents.
2. Only 8% of respondents were aware of POSH before November 2021.
3. The last 6 months has seen 26% of respondents indicating that they are aware of POSH

Analysis:
It is heartening to note that over the 6 months, there is an increase in awareness due to positive initiatives taken by Organizations

Comments/ Recommendations:
The frequency of POSH awareness Programs among employees and all the value chain partners, Leadership dialogues, Team conversations, making communication material visible both physically in locations and virtually are critical in sensitizing all employees. This will help in making organizations reach the zero tolerance goals.
The entire focus for organizations ought to be towards Prevention and not Redressal
Q3: Awareness on Virtual Sexual Harassment

Data Findings:
1. A very high 78% of respondents have reported that they have been asked personal questions about social and sexual life on Virtual calls
2. Virtual harassment is widely prevalent by the fact that the survey reported 950 cases of virtual harassment versus about 487 incidents of physical harassment.
This is an alarming trend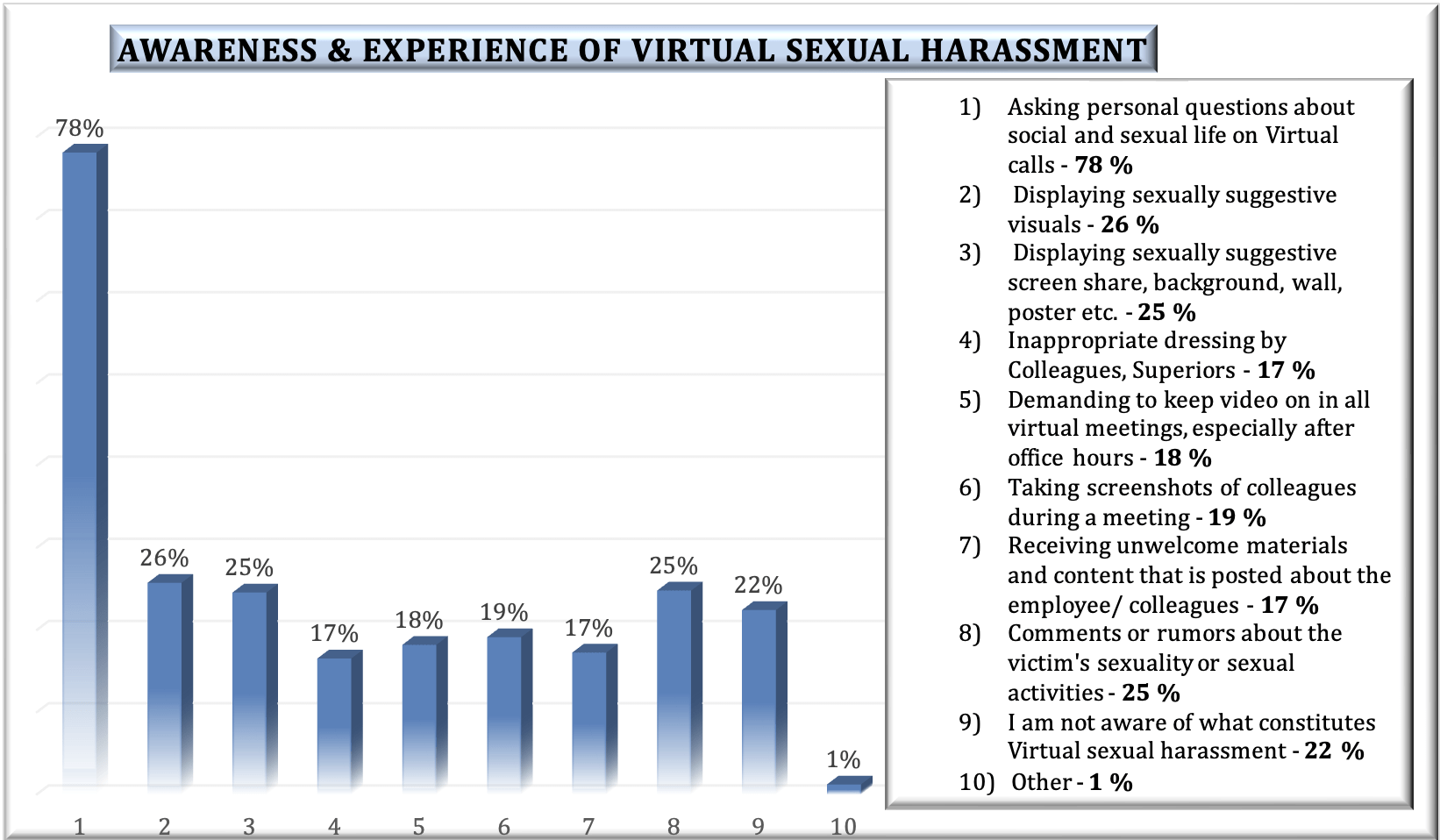 Analysis:
It indicates that virtual and cyber harassment is widely prevalent and is becoming a growing menace. It can prove to be a very dangerous to the safety and wellbeing of employees.

Comments/ Recommendations:
Virtual and hybrid workplaces are a reality which makes employees vulnerable to Sexual harassments beyond physical workplaces. As a progressive and pro-active measure, organizations need to formulate a clearly defined policy which provides a framework to recognize and address virtual sexual harassments. Awareness and sensitization drive across different initiatives is also necessary
The PoSH Act also needs to add this component with clear guidelines and remedial measures.
Q4 : The most likely response in case of sexual harassment at work

Data Findings:
1. 79% of the respondents mentioned that they would report to HR Department 2. 31% of respondents, mentioned sharing such incidents with colleagues. 3. 27% had clarity about informing such incidents to Internal Committee on Sexual Harassment
4. Over 11% of participants decided to leave the organization.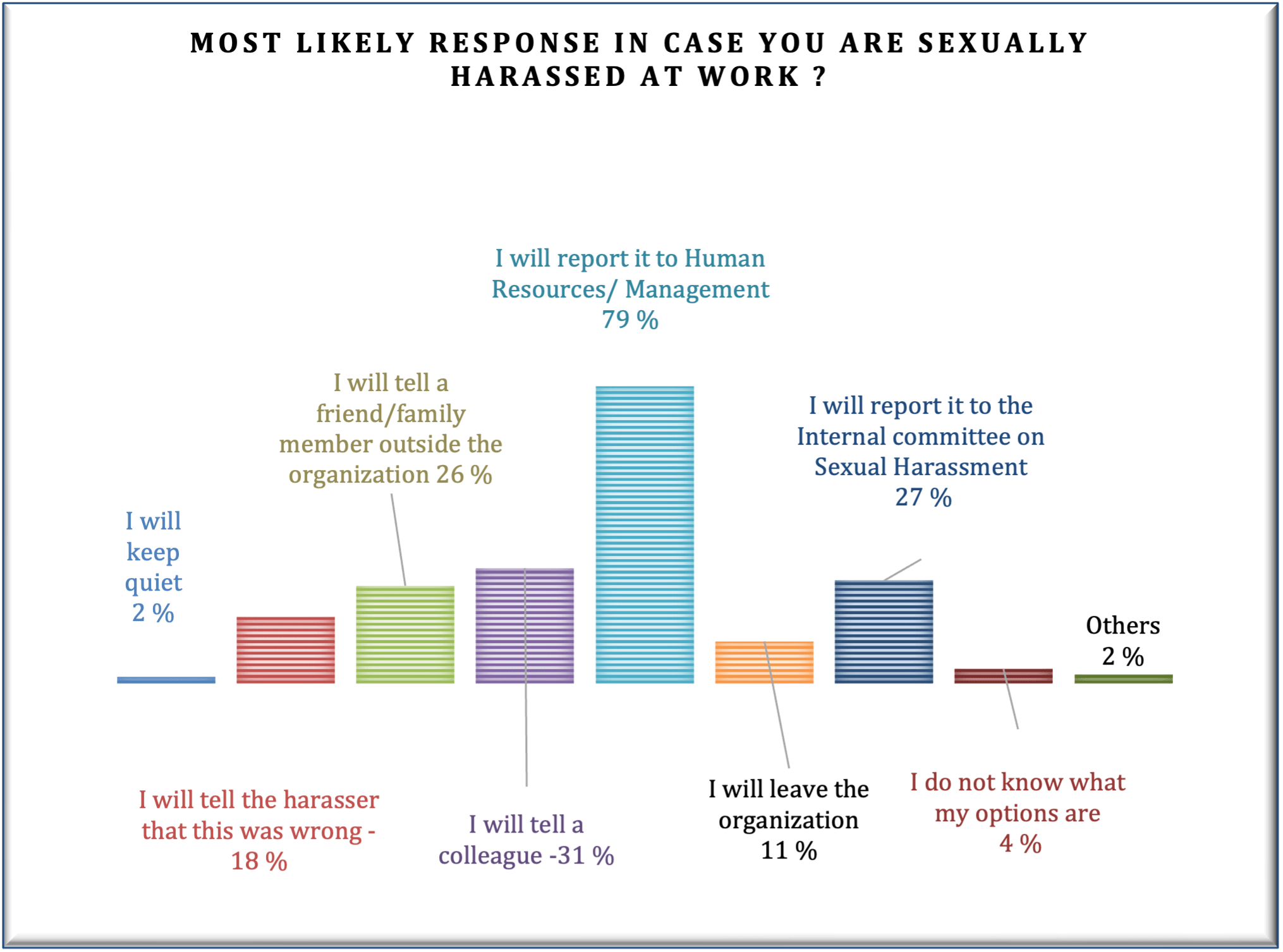 Analysis:
The findings are again revealing that there is lack of clarity on the redressal mechanisms.
It is also disheartening that there is a significant set of respondents who chose to leave the organization due to fear of embarrassment, social stigma or to avoid the possible negative consequences of reporting. It is also indicative of the lack of faith in a fair hearing and justice received

Comments/ Recommendations:
While HR plays an important role in creating a culture of safety and respect at the workplace, it is equally the responsibility of all leaders and people managers to be accountable for ensuring a safe workplace for all. Prevention and a robust redressal mechanism along with awareness is a collective responsibility of the entire organization.
Along with the sensitization initiatives a clear communication campaign on what to do and how to report is an observation
Cross functional teams that drive the entire PoSH awareness and implementation is the need of the hour
Periodic review of awareness levels is also necessary

Q5 : Likely action you will take in case of witnessing sexual harassment with a colleague

Data Findings:
1. Only 23% of respondents who witnessed any sexual misconduct with their colleagues chose to intervene on the spot.
2. It is encouraging to note that 72% of respondents mentioned taking such cases to their organization's authorities.
3. 39% of the respondents mentioned that they will report to the Internal Committee on Sexual Harassment.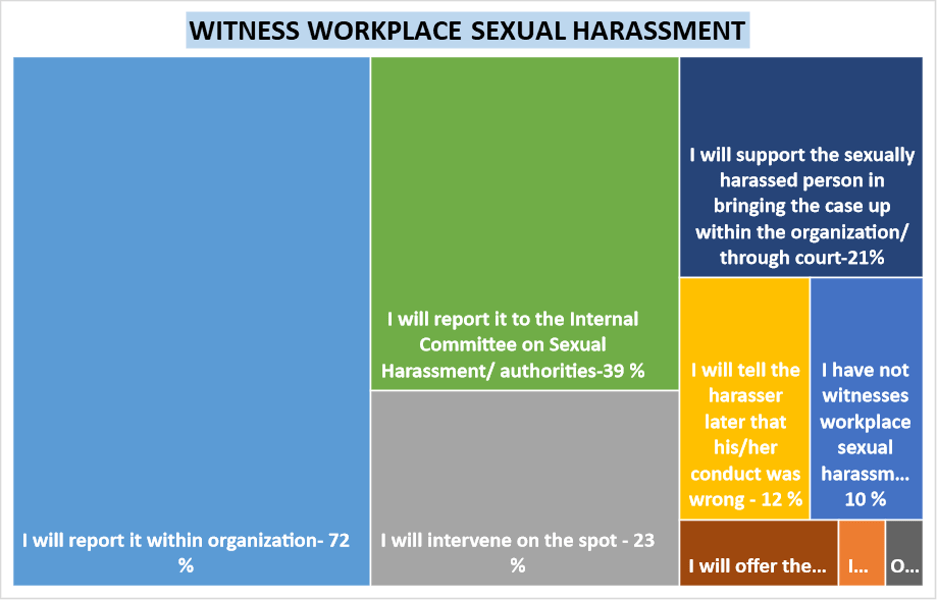 Analysis:
There is a hesitation among people to get involved in sexual harassment cases, which illustrates the difficulty of preventing such cases on the spot.
It is heartening to note that employees are willing and pro-active in offering their support with the authorities and the IC on Sexual Harassment.

Comments/ Recommendations:
Organizations need to stress on creating safe and respectful places. Leading from the top is necessary. There is direct co-relation between the experience of safety and assurance that they will not face any backlash to being able to nip the harassments in the bud. The better the culture, the higher the level of engagement of employees in prevention and redressal. The obvious outcome is employees will be encouraged to step in at the right time to avoid the long drawn investigation processes

Q6 : Redressal Mechanisms available with your organization

Data Findings:
1. 75% of respondents have mentioned that their go to is the "Policy on Sexual Harassment"
2. Only 16% mentioned that Trainings are held on sexual harassment for employees across all levels in the organizations
3. A mere 15% mentioned that a clear process to report Sexual Harassment is available
4. Positively, a 27% of respondents mentioned that have an updated Policy on Sexual Harassment that covers Virtual Sexual Harassment
5. Only 12% respondents have mentioned that Organizations have inculcated POSH in Induction / Orientation Process

Analysis:
Even though there is lack of real awareness on PoSH, it is encouraging to note that a large number of respondents understand the need and importance of having a clear "Policy on Sexual Harassment". This will address the vacuum in the lack of knowledge on the process and the redressal mechanism as well

Comments/ Recommendations:
Prevention being the primary criteria, the Process to report Sexual Harassment should be well defined for maximum use.
To nurture a safe environment, employees should be educated about Sexual harassment complaints periodically to prevent any form of sexual misconduct, & in case of any such incidence, have a direction of how to go about the Process. These can be mandatory during new joinee inductions, onboarding lateral hires, transfers & during promotions.
To destigmatize and remove fear is very necessary across all levels in the organization. At the same time a strong messaging on zero tolerance should also be a part of the communication strategy.

Q7: Actual experience of handling of sexual harassment at the workplace within organizations

Data Findings:
1. It is encouraging to note that a large 66% of respondents believe that their organizations any form of sexual harassment cases seriously.
2. Over 34% of respondents believe that their organizations is likely to fire the member who harassed other members.
3. Only 7% of respondents admitted that there were no formal mechanisms to report sexual harassment within their organization
Analysis:
The positive trend of taking Sexual harassment seriously bodes well. However, the large majority of 66% looking at firing the perpetuator does not speak well on the process being followed, the role of IC, being fair and just in the investigations and the ability to handle the investigations sensitively & in full confidentiality

Comments/ Recommendations:
Making a safe and respectful workplace requires work across the entire organization and across all levels. PoSH should not be considered just as a compliance issue but an opportunity to create a culture of inclusivity. It should be practices not just in letter but in spirit. The role of IC needs to be taken very seriously since they are the conscious keepers to prevent, prohibit and redress any sexual misconduct. A Senior leader other than HR can be the Champion and Sponsor for this.
According to Chirag Patel, Co-Founder of Stratefix Consulting, the scope to improve the level of awareness on PoSH exists. There is a visible shift in perspective within employees that should act as a catalyst for organizations to put in place a relevant sexual harassment policy, processes & redressal mechanisms. The framework to implement a robust and sustainable PoSH structure must be across the organization. It will help build safe, respectful workplaces and positively contribute to a culture of inclusivity, where productivity thrives and prevention of sexual harassment becomes a norm. The directive towards Sexual harassment should be of zero tolerance and necessary action taken decisively, sensitively, and confidentially. Our aim with the study findings is to set in motion the right advocacy, needs and policies so that physical & virtual workplaces  for women and all employees  become safer and more inclusive.